CUSTOMERS EVERYWHERE LOVE THEIR CURVES®...
"Curves® have helped me more than you could imagine. When I wear them I look and feel great. I never used to want to even wear a swimsuit and now go on swimsuit auditions. Curves® have made my clothes look better than ever on me.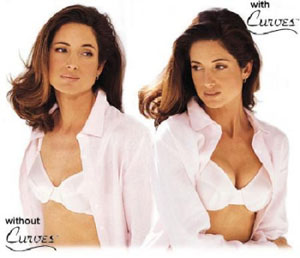 They look and feel so unbelievably real. I can't thank you enough for coming up with this product. As an actress and model, I know I've gotten jobs I never would have before I started wearing Curves®."

— Jennifer, Hollywood, Actress, model & star of ABC-TV series
"I have never felt so appealing, so attractive and so womanly before. Wearing Curves® has not only changed how I feel about myself, but has given me confidence and self-assurance that I never knew before. I have both sizes, which I alternate depending on my mood. They are comfortable, genuine-looking and I am not even aware they are there. This has to be the most natural product available to women who want 'anytime' breast enhancement that doesn't have to be permanent."
— Susan, San Francisco, CA
"As an enthusiastic Curves® customer, I wanted to share my experiences with the product with you. I am a mother of two children and lead a very active life-style. When I found out about Curves®, I was interested in testing them to see how it felt wearing them while carrying on my hectic daily activities. I have been wearing them for several months in a variety of circumstances, and they have exceeded all my expectations. I have found Curves® to be extremely comfortable, even if worn for long periods of time. They are also very natural — I wear them in both business and social environments, hug people, dance, etc., and no one knows I have them on except me."
— Bonnie, Seattle, WA
"My Curves® were definitely worth the price. The quality of the product is great and I can wear them with just about everything in my closet — even bathing suits. Curves® are easy. I just insert them into my bra. They stay in place even when bending over, lifting, walking fast. I hardly notice I have them on. They feel like they are a part of my own breasts. With all the negative aspects of breast implants and plastic surgery — which is essentially permanent — Curves® are a much better alternative to me. They are a lot cheaper than surgery, too. I've always wanted larger breasts, but the costs, health risks, fears of surgery and fears of the 'new breasts' not turning out right melt away that desire. Curves® are a great alternative to surgery."
— Mary, San Francisco